31 Days to Christmas Day 18: Gifts
As I think about today's topic of gifts, each phrase I think to write comes from the song I have posted below.
As little children we would dream of Christmas morn
Of all the gifts and toys we knew we'd find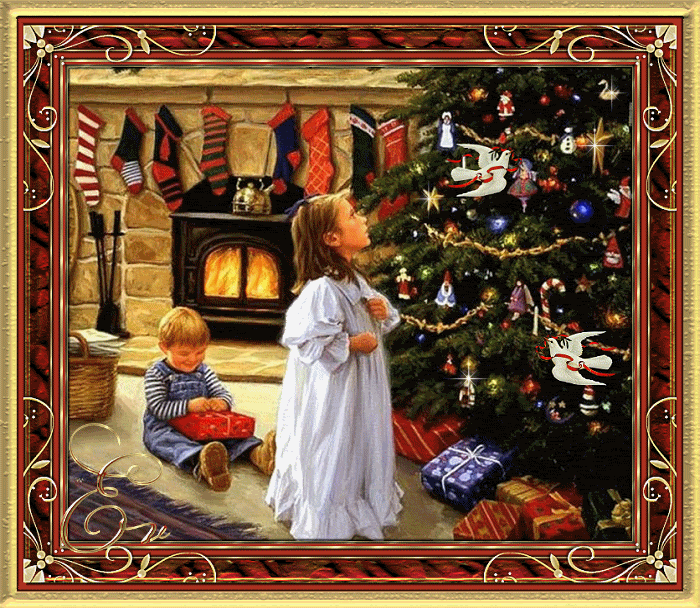 Think back to Christmases when you were a small child. Here's how I remember it. The gifts under the tree would start to accumulate. Whenever Mommy and Daddy weren't looking, I'd hurry over and peek at each of the tags. To Aunt Karen and Uncle Ron, To Sarah, To Larry, To Jessica! That's me! This one's mine! Then I'd check every couple days to see if there were any more. I would pick them up to see how heavy they were and try to guess what was inside. Christmas morning, we'd come downstairs to see more gifts "From Santa" and full stockings!!
But we never realized a baby born one blessed night
Gave us the greatest gift of our lives
We were always taught about that baby, but like it says, as little children, we really cannot grasp that all those presents cannot possibly compare to the gift that our Father in Heaven gave to us by sending His Son. We still may not be able to grasp it completely, but we can look at that Gift in the same way,
with the same joy and the same excitement and the same anticipation
as we looked at gifts when we were little children.
As the years went by we learned more about gifts
The giving of ourselves and what that means
On a dark and cloudy day a man hung crying in the rain
All because of love
All because of love
Oh my. Is that what giving of ourselves truly means? He gave us His all. His love. His life. What more can we do than give that back to Him?
We were the reason that He gave His life
We were the reason that He suffered and died
To a world that was lost He gave all He could give
To show us the reason to live
We give toys, movies, clothes, games...at Christmas, but what if we decided to make this Christmas about giving something bigger. What if each one of us decided to give all we could to the Lord this Christmas. He gave us everything. What can we give back to Him except for our lives?
I finally found the reason for living
It's in giving every part of my heart to Him
In all that I do every word that I say
I'll be giving my all just for Him, for Him
Even though nothing we do can ever be enough, that doesn't mean we stop giving. This year, with each present that you wrap, with each card you sign, with each bow you put on, think about the incredible gift He gave to you and how you can give your heart to Him.
For the wages of sin is death; but the gift of God is eternal life through Jesus Christ our Lord.
Labels: 31 Days to Christmas