31 Days to Christmas Day 12: Holly
It seems that many of the Christmas symbols are reminders of not only Christ's birth, but also his death and resurrection. Legend has it that holly sprang from Christ's footsteps as he walked the earth. "The pointed leaves were said to represent the crown of thorns Christ wore while on the cross and the red berries symbolized the blood he shed."
1
I read a saying today that at first caught me off guard. We're used to the saying, "Jesus is the reason for the season", but this one was different. It was, "We are the reason for the season." How true that is! If it weren't for us and His love for us, there would be no need for Christmas.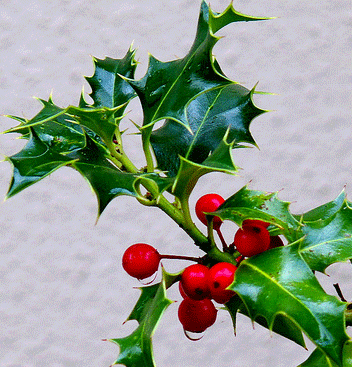 As you hang a holly wreath or put out a sprig of holly this Christmas, think about the suffering that Christ came to do for you.
Isaiah 53: 1-5
Who hath believed our report? And to whom is the arm of the Lord revealed? For he shall grow up before him as a tender plant, and as a root out of a dry ground; he hath no form nor comeliness; and when we shall see him, there is no beauty that we should desire him. He is despised and rejected of men; a man of sorrows, and acquainted with grief; and we hid as it were our faces from him; he was despised, and we esteemed him not. Surely he hath borne our griefs, and carried our sorrows; yet we did esteem him stricken, smitten of God, and afflicted. But he was wounded for our transgressions, he was bruised for our iniquities; the chastisement of our peace was upon him; and with his stripes we are healed.
Source:
Labels: 31 Days to Christmas