My Happy Pumpkin Book Review
I have a love/hate relationship with this time of year. I LOVE fall! I love decorating for fall, I love having my windows open, I love the changing colors of the leaves, I love crunching them under my feet. I love everything about fall.
On the hate side of things, I hate everything that goes along with Halloween. Now before I get into this too much, I know some of you are going to tell me that Halloween is harmless fun for the kids and some will even tell me that its origins are good (Stuart, my brother-in-law may leave some links for you in the comments). No matter the origins, Halloween today has become a time of scary costumes, things to scare kids, and a time for evil to run free and rampant.
And I don't like that part. In fact, I hate walking through Walmart this time of year and having my girls asking me what things are. No, I don't want to tell my two and three year old about zombies, skeletons, blood gushing from dead people, etc. That's not okay.
So...what does this have to do with this book I'm reviewing today? Well...everything! I received My Happy Pumpkin (by Crystal Bowman) at a baby shower before H. was born and it went on a shelf with all the other books we received. When she was about a year or so, it came off the shelf for the first time and flipping through it, I was shocked! This book came from someone at my church and it had a Jack-o-Lantern in it! Now I don't celebrate Halloween, but compared to some of the people I go to church with (whom I love very much!), I'm mild in my opposition.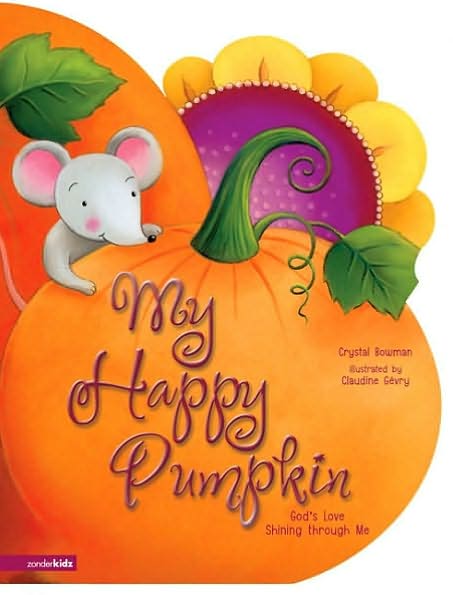 I decided to set the book aside and read it myself before reading it to H.
When I sat down to read it, I found out why it had been given to us. It is so sweet! And it's now one of our favorites. The story is about a boy who's father is a farmer and grows a pumpkin patch. When the pumpkins are ready, they pick one, scoop out the insides, carve a happy face, and put in a candle. The little boy is happy as he watches his pumpkin shine.
Then comes the best part.
My pumpkin is happy and I'm happy too
for God picked me out and He made me like new.
He took all my sins and He threw them away.
I show God I love Him each time I obey.
It explains how God forgives our sins and makes our hearts clean, then He puts His light in us and we can shine for Him.
Did I mention that I LOVE this book!?! It seriously makes me cry when I read it. (Okay, I'm a pregnant, emotional mess and cry at everything right now, but it really is good!) And I love the added benefit that when my children see Jack-o-Lanterns, they think about this story and about God's love shining through them.

So if you're looking for a new book this fall to read with your little ones, My Happy Pumpkin would be an excellent choice!


Disclosure: I did not receive any compensation or free product for this post. The product was purchased for me by a friend and my thoughts are 100% mine.
Enjoy this post? I'd be honored if you joined us on Facebook, pinned to Pinterest, or shared via Facebook or Twitter. Thanks for stopping by!
I often link up with these lovely bloggers...
Labels: Reviews