Candle in the Night: What does that mean?
I used to think that "her candle goeth not out by night" was a missionary type reference. She keeps her candle lit even when times are hard and people see her light. You know, this little light of mine... Maybe that is partially what this verse refers to. Or maybe it has to do with her husband and children finding their way home. Like a lighthouse.
Recently, that verse has a whole new meaning. My life has changed drastically in the past eight weeks. People say the first child changes you. Well, if that's true, the second child rocks your world! Since M has been born, there have been very few days that I have gone to bed before 11:00. All evening long, I tend to her, tend to the house, and when she's finally down, I tend to some of my own needs. I can see this verse now as referring to a busy mother. Even when she wakes up at night to nurse, my head spins with all the things I need and want to do.
Over the past couple weeks, I have begun to live a little differently. As moms, we sometimes struggle to balance our lives. What do I want to do during an average day? I want to spend time with God. I want to spend quality time with my children and husband. I want to spend some time blogging (writing is a great outlet for me). I want to read. I want to spend time with friends either in real life or through social networking. What do I HAVE to do during a day? I have to spend time with God. I have to spend quality time with my children and husband. I have to cook. I have to clean. I have to sleep.
For a few weeks, I did only what I HAD to do. And I totally got lost. There was no me-time. And as selfish as it might sound, I think all of us moms can admit that you really do need some time doing what you want to do. So then I tried leaving out cleaning and sleeping. That really didn't work either. So for the past couple weeks, I have tried to find ways to combine quality time with my girls during the day with cooking, cleaning, and other things that need to get done. I'm going to use this blog to share some of those things with you.
I'm hoping to give other moms some ideas of how to balance life. Mine doesn't always stay balanced by any means, but it's a little more in balance than it used to be!
Linking up with: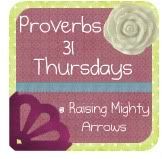 >
Labels: homemaking