This Won't Last Forever
Today, I needed some encouragement. I have been SO sick with this pregnancy to the point of not being able to do almost anything. It started when I was four weeks along, earlier than with either of the girls, and hasn't let up. I'm so...tired. I'm ready to be back on my feet, but it's just not happening yet. I'm 11 1/2 weeks along and really looking forward to the end.
I needed some encouragement that this isn't going to last forever, so I decided to go back to my old blog posts and see what I did while I was pregnant with M. (I hadn't started the blog until after H. was born.) I am now SO excited! When I was expecting M., I was super productive! There were all kinds of things that I did that I can't do now. Major house cleaning projects. Big parties. Crafty stuff. All these things that I LOVE and haven't been able to do for months now.
It was just the encouragement I needed. This won't last forever and I will feel normal and productive again...and SOON!! Just had to share. I'm so glad this won't last forever.
One of my before/afters from a blog post during my pregnancy with M.
So encouraging that I WILL get to where I can be productive again soon!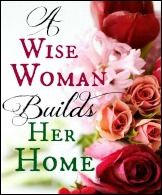 Labels: pregnancy